Manuka honey is one of the most unique and beneficial forms of honey in the world. Is a monofloral honey that is made by bees that forage on the nectar of Leptospermum Scoparium or in another name Manuka plant. This plant is also known as the tea tree and it's found in New Zealand. What makes this honey so unique? Well, special medicinal qualities that are not found in other kinds of honey. Manuka honey has a considerably higher level of enzymes than regular honey. These enzymes create a natural hydrogen peroxide that works as an antibacterial.
Manuka honey can kill bacteria better than any antibiotics available on the market
At the University of Sydney, School of Molecular and Microbial Biosciences, Dr. Dee Carter notice that bacteria attacked by antibiotic over time become resistant, making them useless.
Based on a report published in the European Journal of Clinical Microbiology and Infectious Diseases, Manuka honey kills almost every bacteria in the experiment. Bacteria were not able to survive or become resistant to the honey treatment.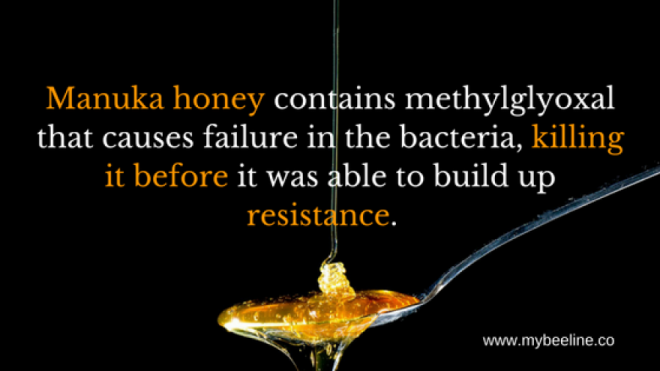 Why is Manuka honey so powerful in the fight against bacteria? Well, according to Dr. Carter, Manuka honey contains methylglyoxal that causes failure in the bacteria, killing it before it was able to build up resistance.  
Manuka slows down the growth of cancer cells
According to a report published by College of Medicine and Health Sciences, UAE University, Al Ain, United Arab Emirates, treatment with Manuka honey alone resulted in about 33% inhibition of tumor growth.
In that study, they investigated the antiproliferative activity of manuka honey on three different cancer cell lines, murine melanoma (B16.F1) and colorectal carcinoma (CT26) as well as human breast cancer (MCF-7) cells in vitro.
Findings indicate that systemic administration of manuka honey was not associated with any alterations in hematological or clinical chemistry values in the serum of treated mice, demonstrating its safety profile. Treatment with Manuka honey alone resulted in about 33% inhibition of tumor growth, which correlated with the histologically noticeable increase in tumor apoptosis.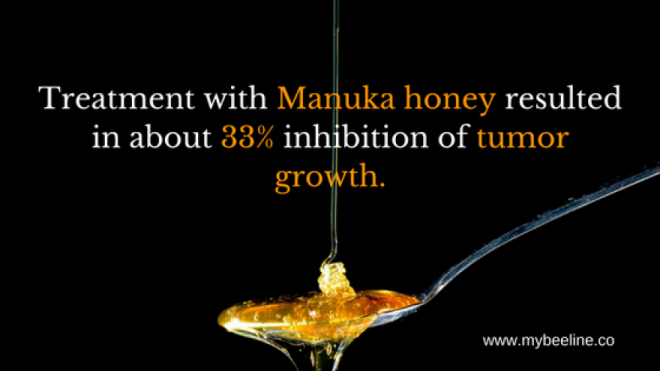 Although better control of tumor growth was observed in animals treated with paclitaxel alone or in combination with manuka honey (61% inhibition), a dramatic improvement in host survival was seen as well. This study highlights a potentially novel role for manuka honey in alleviating chemotherapy-induced toxicity.
Characteristics of Manuka Honey
This honey is very dark in color and its flavor is rather intense when compared to other kinds of honey. It's used as a sweetener just like most kinds of honey and many people around the world enjoy it. Other honey products are made from this variety such as honey cream and whipped honey.
Medicinal qualities
Manuka honey has a considerably higher level of enzymes than regular honey. These enzymes create a natural hydrogen peroxide that works as an antibacterial.
Honey, in general, is considered to be a natural antiseptic that can speed-up the healing process while it protects the wound at the same time. It also has the additional benefit of being a lubricant because it keeps bandages from sticking to wounds. In recent years, there has been an increasing resurgence of using honey as an antibacterial agent. Today, this type of honey is specially packaged so it can be included in first-aid kits.
Unique Manuka Factor
Sometimes Manuka honey is labeled as being Unique Manuka Factor (UMF) honey. It stands for a global standard in identifying and measuring the antibacterial strength of Manuka created by the researcher, Peter Molan in New Zealand.
You will not see the UMF label on every Manuka honey, regular Manuka only contains the hydrogen peroxide antibacterial property, which is common to most honey types. On the other side, UMF Manuka honey beside hydrogen peroxide also has its own UMF antibacterial property. Considering that extended antibacterial property it's not hard to see how UMF Manuka is more effective than regular Manuka honey. 
The UMF quality trademark ranges from 5 upwards (more):
  0-4  Not detectable
  5-9  Low levels
10-15 Useful levels
16+   Superior high-grade levels
How to check if the Manuka honey that you bought is a real thing? You should test six criteria, to be sure that it is a real thing all test should be right. (more)
It has the quality trademark UMF clearly stated on the front label
It is packed into jars and labeled in New Zealand
It is a New Zealand company licensed to use the quality trademark UMF
It has the UMF Licensee's brand name and license number on the front label.
It has a rating number alongside the trademark UMF.  A number on its own or without the trademark UMF does not identify genuine UMF Manuka Honey.
It is endorsed by the Official UMF Test Certificate which states the tests results for the batch number displayed on the label
Note: Only New Zealand companies are licensed to use the name UMF. Overseas companies claiming they have UMF honey under their own brand label - they are not licensed to use the trademark UMF.

Benefits of this Special Honey
One significant benefit of this honey is that it is natural. There are no artificial ingredients or colors added to this honey. Additionally, this honey comes from a location that is very pollutant-free. Manuka honey could have many health benefits for you; it is a great medicine for any bacteria related disorder. It can help you resolve the problems with acne and eczema. The use of Manuka honey leads to improved wound healing in acute cases. It can assist you with recovery from illness, and it can help you to have a better sleep time. And, once you taste Manuka honey, you will certainly understand why it is so popular throughout the world.
Do you want to try natural healing solution made from 100% natural Manuka honey?
A safe and all natural way to heal your external wounds,prevent scarring, and protect yourself from infection.