Grilling ribs on the barbecue is a common sight on the weekends. Enjoying Sunday's afternoon in the backyard of the house grilling ribs, there isn't a better way of having fun with the family other than lying on the hammock and seeing ribs getting grilled on the barbecue.
Weekend time is the only time when you get to get indulged in fun activities with your loved ones, and if you get a delicious food such as ribs on the table, then there is nothing more that you could ask for.
But, what if your barbecue is broken and you are craving for ribs? What are you going to do at that time? Well, instead of sitting all disappointed, you can try out a new ribs recipe, which includes baking of ribs instead of grilling it. Moreover, I have added a new ingredient, which will make baked ribs even more delicious.
Before we get into the details of this succulent and healthy recipe, it is important for me to mention that you need to marinate the ribs a day before, so that when you begin the baking process, you don't have to wait for anything. So, without any further ado, let us now discuss the recipe in detail.
Servings: 6
Total Time: 1 hour 30 minutes.
Ingredients:
One Can of beef consommé, undiluted

½ cup honey.

½ cup soy sauce.

½ cup ketchup.

4 pounds pork ribs that are cut into serving-size pieces.

4 garlic cloves, minced.
How to prepare honey baked ribs?
Take a big bowl and add one can of beef consommé, ½ cup honey, ½ cup soy sauce, ½ cup ketchup and 4 garlic cloves in it.

Now, you need to pour half of those ingredients into a shallow glass container or a large plastic bag, and then, add ribs.

Cover the bag and refrigerate overnight. You have to turn the bag once in the night so that the marinade covers all the ribs in a proper manner. Keep rest of the marinade in the refrigerator.

The next part of the recipe will be carried out the next day. You will have to take out the ribs from the bag and place the ribs on a greased roasting pan. Don't add the marinade into the pan. Cover the pan and put it into the oven. Bake the ribs for 10 minutes at about 425 degrees Fahrenheit and after 10 minutes, reduce the heat to 325 degrees Fahrenheit. You need to bake the ribs for 30 minutes more.

Now, it's time to drain followed by adding reserved marinade over ribs.

After you add the reserved marinade, you need to bake ribs uncovered for 60-70 minutes approximately or until the meat gets tender. Keep on basting the ribs frequently.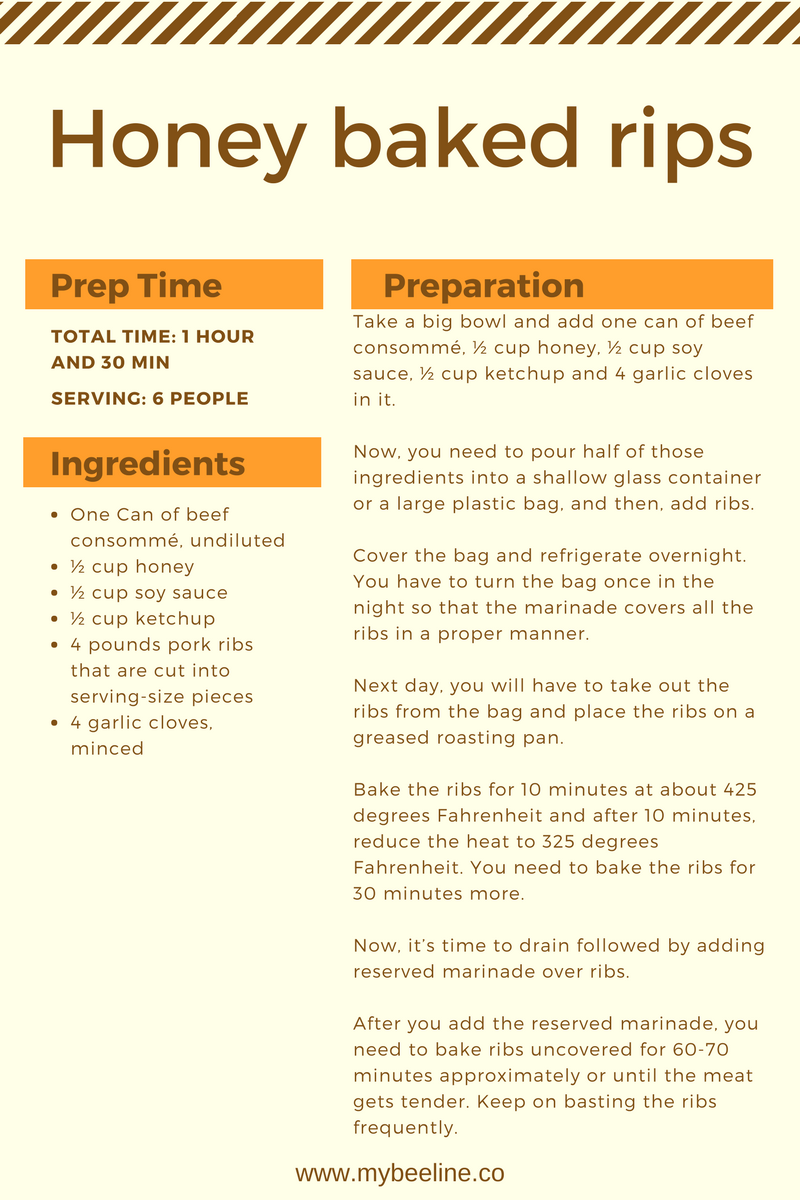 Ribs are ready and you can easily serve it to six people. Ribs will be as tender and as juicy as the ribs made on a barbecue. You need to try these honey baked ribs even if you are a hardcore fan of grilled barbecue ribs. The flavour of honey will give a whole new dimension to this dish. The juices will perfectly amalgamate with the flavour of honey. You can't imagine the taste until you try this recipe. To make things further exciting, you can decorate the table with beautiful plates and Chicago cutlery knife set, and then, enjoy these mouth-watering ribs with your family.
This article is written by Monica Henin, a traditional Asian woman, founder of Addon Kitchen, and she is absolutely in love with food & kitchen utensil blogs.