If you have a garden or would like to show appreciation for the importance of bees in our environment, you may want to jump into beekeeping. The first step is getting a home for your future bees, bee boxes. Today's bee boxes are designed to keep the bee colony healthy and to make it easy for a beekeeper to take out honey without disturbing bees too much. There are many bee boxes for sale, and it might be hard to choose which one to get, for both beginner and experienced beekeepers. We found some amazing bee boxes for sale that are easy to use, and the only thing you need are bees!
If you are a new beekeeper or just thinking about starting with it, it could be hard to choose which hive is the best for you. As you already know, there are so many different types of bee boxes (or beehives). In this article, we are trying to let you know about the most common types of hive. Probably the most popular bee box is Langstroth beehive, it's used in most parts of the world, so it's popular among beekeepers. 
This kind of beehive has four necessary components. 
bottom board
supers
frames
covers
For every component, there are many different options to choose from, but a standard setup of this beehive is made using deep supers for the brood chambers while the medium supers are for honey. Anyway, there is no need to explain this in more detail since you will get everything needed if you take any of the beehives that we list below.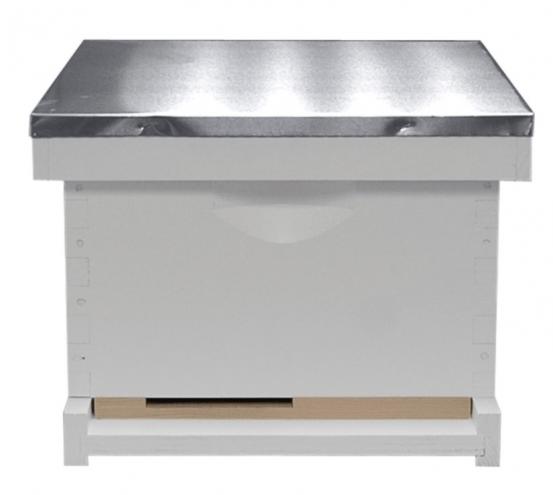 If you are looking for your first bee box, this completely assembled bee box kit will be perfect for you!
The most notable feature about this bee box is that it is already painted and has a durable top cover to protect the bees and the box against the elements. Such characteristics make it durable and a great investment if you plan on keeping bees for a while. The frames are already waxed and ready for bees.
This hive is built by Mann Lake company, based in Northern Minnesota. This company has served the beekeeping community for over 30 years. They are recognized by manufacturers and distributing a comprehensive line of quality beekeeping equipment throughout the world. They pride ourselves on providing the best products and customer service in the industry.
Product dimension: 22 x 18.5 x 13.1 inches
Item Weight: 31,6 pounds
You should have in mind that this is a start box and it can support about 3 pounds of bees which is roughly around 10,000 bees. You will need to add additional boxes on top as the bees start building brood and honey. Don't worry, on Amazon you can find extra hive or honey frames from the same seller so you can be sure they will fit.

This bee box is a little more than only 10 frame hives. It has 16 deep frames and 16 medium frames, also it came with bottom board, entrance reducer, inner cover, top cover and even queen excluder. It means it's a much bigger hive (as you can see on the picture) and it came with everything you need. The most important part of this deal is the fact that it is a complete kit, and is not so complex to setup it in your garden, you will not spend more than 10 minutes to setup everything.
This bee box is popular for it's a durable material. Is has cedarwood outer box construction and pinewood honeycomb foundation frame. It's not painted but it's still stylish and nice-looking hive. Foundation is designed with dovetail joints for easy installation and it has a waterproof metal top cover.
Product dimension: 23.6 x 21.3 x 14.2 inches
Item Weight: 70,4 pounds
This white bee box is assembled and doesn't need to be painted. You can easily open it and inspect the hive, more it, or feed the bees.  Insulated to withstand extreme weather, and designed to prevent moisture buildup inside the beehive. 
In this hive as standard features, you will get screened bottom boards with pollen trap and drawer, entrance reducer, queen excluder, division board, frame spacers and top feeder. It has 20 plastic frames, but it doesn't include any foundation. For foundation, you can put either a plastic or wax foundation.
Product dimension: 19 x 27 x 24 inches
Item Weight: 58 pounds

This amazing beehive has 8 premium dovetail pine frames and a beeswax coated foundation. Also, it has a wax-coated solid bottom board and metal top cover. They say the pain on the bee box is not toxic and they use natural wax to protect a hive. It's essential to notice that it includes inner cover, plastic queen excluder and entrance reducer.
If you choose this hive, check on the list below what's included:
1* Heavy Wax Coated Deep Brood Box;
1*Heavy Wax Coated Medium Super Boxes;
16* Pure Beeswax Coated Food Degree Plastic Foundation Sheet;
16* Premium Pine Wood Frames;
1*Wax Coated Solid Bottom Board
1*Telescoping Top Cover (Metal Capped)
1*Inner Cover
1* 8-Frame Plastic Queen Excluder
1* Entrance Reducer
Nails For Assembly
Product dimension: 24.9 x 19.3 x 14.5 inches
Item Weight: 42,6 pounds
They said this, manufacturing hive allows bees to make honey with less stress because they build honeycombs naturally with this hive. It's known that bees when allowed to produce honey naturally are calmer and require less intervention. It has a nice appearance with the functional peaked roof, whitewashed stain finish and solid wood structure. If we can belive what producer said, minimal maintenance is all that you need with this hive.
 
Product dimension: 18 x 18 x 28 inches
Item Weight: 27,6 pounds
Everyone who was thinking about beekeeping knows what is Flow Hive. The company made this bee box out of the desire to help beekeepers easily extract honey from hives without harming bees. This invention is the best choice for most people who wants to have a hive in their garden but don't have time to deal with all the things around the hive.
This hive is made with the flow hive technology, after more than a decade of research and prototyping.
WIth Flow hive you can tap honey directly from your hive, and this hive has a window so you can monitor the bees without distributing them.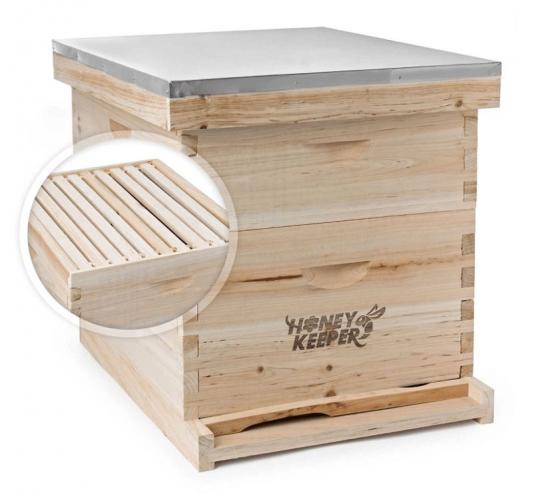 This bee box is designed to help you create a prosperous colony; it has everything but the bees. The quality was the primary focus of construction which is shown through materials used; the frames are made of white pine wood, and the foundation is made of premium fir wood. The rooftop covered with galvanized metal provides excellent protection against the elements.
You don't have to worry about assembling the box as its design makes it very easy to do. Every piece is designed to fit perfectly so your bee box can be ready in no time.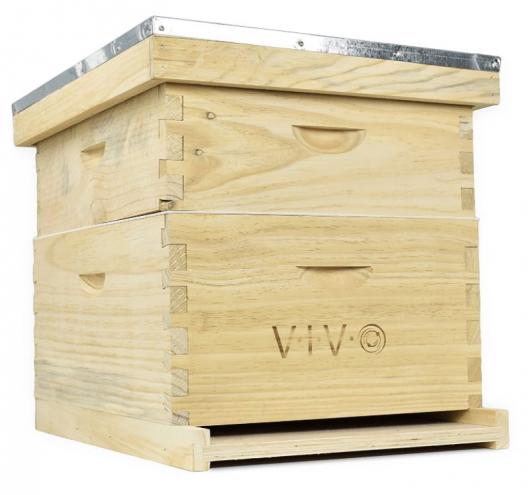 No matter if you are a beginner or an experienced beekeeper, this bee box kit has everything you need. The attractive appearance complements any garden and bees will love it.
Thanks to a step-by-step manual and all the necessary hardware, the construction is easy and straightforward. The rooftop covered with metal protects the hive against the elements and provides easy access. It also includes a plastic hive excluder and a sturdy bottom board with an entrance reducer.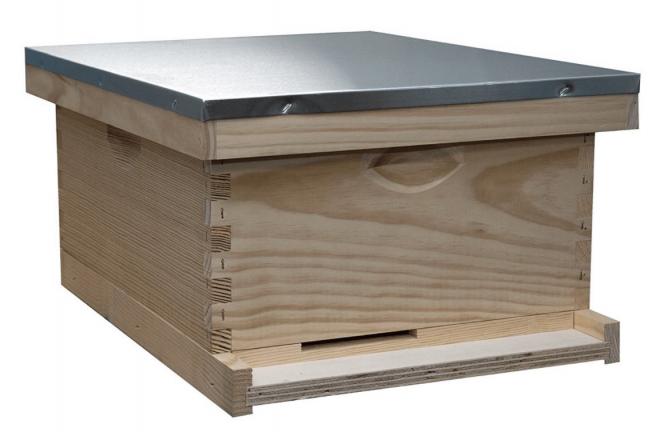 If you are looking for your first hive, this completely assembled and ready to use bee box may be an excellent choice. The box comes with everything you need to get you started. It is made of quality material from top cover to the bottom board. Includes, bottom, entrance reducer, frames, body, inner and top cover.
Finding a bee box of such simple and functional design is a steal!
Choose the best bee box for your bees
We hope our list helped you find the perfect bee box for your bees. Finding the right bee box can be hard work, but in the end, it is worth it. Good quality bee box will last longer, and your bees will love it. Check all of them and decide what is the best option for you and your obligations. For some of them, you need to spend more time managing it while for example with Flow Hive there is minimum activity needed.